The local Alfriston Summer Horticultural show was held this weekend.
We have a little Village Hall,
The Memorial Hall.
It is such a beautiful old building with beams and is tiny, but surprisingly a number of tables can fit in and quiet a lot of people can be fitted into this tiny Village Hall.
Most of the main events during the year are held in the Hall.
Money raising fetes and fairs, the annual Christmas Pantomime, wedding receptions and of course the all important Horticultural shows.
Most of the Villages participate and let me tell you the competition is fierce.

Potatoes have to be the same size, same shape and have to be placed neatly on a plate.
Leek and onion leaves have to be tied down correctly and prize tomatoes are placed on slices of

the inner tube from a tin foil roll,

so that they

are all in an upright

position and precise.
While I was there examining the produce and flowers and exclaiming my amazement, I noticed some Villages rushing in to see what they had been awarded, a first, or a second.... and the discussions on why so and so won and why so and so had only received a Highly Commended .....
My Lady's daughter submitted a beautiful arrangement called 'Sunset'

and won 1

st

prize.
I

bought a raffle ticket, you know to support the Horticulturalist and on Sunday morning at

9am my

prize was delivered to the house half a dozen newly laid eggs
I am supposed to be packing up to leave tomorrow morning at 9, but instead I was visiting blogs.
I am so excited to have found this cushion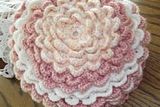 An hour earlier I had taken all my scraps of wool put them into a bag for a charity shop
I think I will keep all these scraps now and make one while driving around the country side visiting the family – so excited!
If you haven't seen my giveaway for the 'Lavender Sachets', please click on the right hand button
I hope you will enter!